Polish The Concrete Floors for Outside Patios in DFW
The outdoor patio of your property is a great place to relax. For spending some leisure time, reading books with nature, or just having a chat, the paved outside area is the ideal spot. Enhancing its appearance can make a good impression on your visitors. And in order to make the patio area look appealing, a polished concrete floor goes a long way. The easy cleaning and maintenance of this polished surface is the main reason to be chosen among all the other options. And Dalworth is the source from where you can get it quickly done. We offer a wide range of concrete floor staining & polishing that are unique and customizable as well according to your preference.
Our concrete polishing treatments are available throughout the following locations - Azle, Grapevine, Arlington, Dallas, Fort Worth, Garland, Irving, Burleson, and neighboring service areas. To get in touch with us, call us at 817-553-2184 to fix an appointment. Click on the link to have an online discussion.
Contact Us
Some Best Picks for Your Concrete Patio Floorings
While choosing suitable solutions for the concrete flooring of the outside area patio, keep in mind that it needs to be safe for use. There are many different options available. Some are basic and inexpensive, while others offer high-end customization.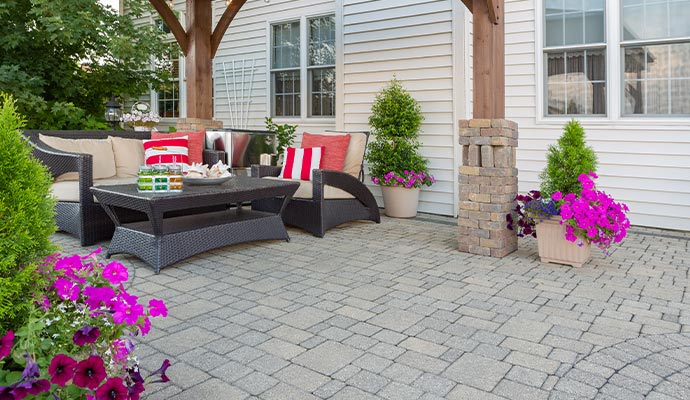 Color concrete: The coloring technique allows for an infinite number of decorative effects. If you choose to color your patio concrete, it'll add great aesthetics to the appearance.
Staining concrete: Chemical stains or water stains can be used to create the effect you desire for your stained concrete patio. While water-based stains have a far wider range of colors, chemic stains penetrate the concrete's surface and react chemically with it.
Stenciling concrete: More options for applying patterns on concrete are provided by concrete stencils. With the use of personalized stencils, design features that were previously difficult to apply by hand may now be done.
Contact Dalworth Today for The Most Durable & Unique Concrete Flooring
Since the beginning of our business, our organization has provided services to residents of Dallas-Fort Worth in its entirety. For garage floors, basements, interior rooms, and more, we provide concrete floor polishing services. To get any type of customized concrete treatment, call us right away at 817-553-2184.