Professional Carpet Cleaning in Bedford, TX by Dalworth Clean
Dalworth Clean is your one-stop-shop for carpet cleaning and floor care in Bedford and throughout the Dallas-Fort Worth Mound metropolitan area. For more than four decades, we have provided superior steam cleaning for carpets to homeowners and business owners in DFW. Our certified technicians can also clean, polish, seal, protect, and restore every type of tile, vinyl or hardwood floor covering in your home or office.
We are part of the Dalworth Family of Companies and have been a DFW leader in the restoration industry since we opened our doors in 1976. When you want it clean in the DFW Metroplex, make sure it is Dalworth Clean.
Clean, Polish, Restore, Seal & Protect
Bedford, Texas
Founded in 1840
2013 Population: 48,592
Land Area 10 Square Miles
Elevation 598 Feet
Tarrant County
Zip Code: 76021, 76022, 76095
When Disaster Strikes, Call Dalworth Restoration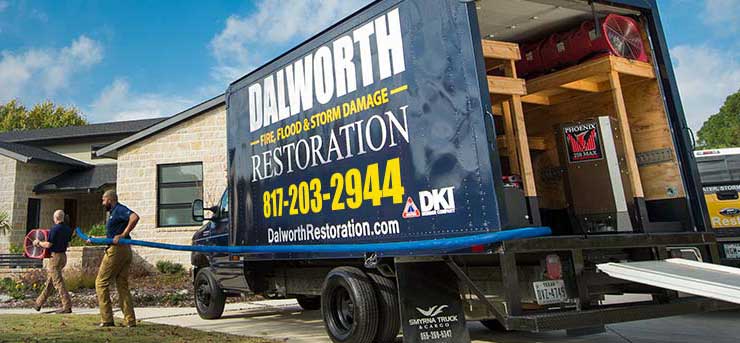 When fire, flood or storm damage occurs to your North Texas residential or commercial property, contact Dalworth Restoration—a restoration company you can trust to get the job done professionally and efficiently, to your expectations, satisfaction guaranteed.
Our professionally trained technicians are certified through the Institute of Inspection Cleaning and Restoration Certification (IICRC) and are dedicated to serving our customers, making Dalworth a household name. Customers and insurance companies prefer Dalworth Restoration and clean-up services based on our reputation and satisfaction guarantee. Learn More
Carpet Cleaning Benefits Indoor Air Quality
Studies show that indoor air quality is often much worse than outdoor air. This is particularly true in urban areas like Bedford and other cities throughout the Dallas-Fort Worth Mound Metroplex.
Poor air quality can be a problem for babies, the elderly and those with allergies or respiratory issues. Fortunately, carpet traps airborne particles, removing them from the air you breathe. A carpeted room that is vacuumed and cleaned regularly will have a higher level of indoor air quality than a room with a hard surface floor. That is why enlisting Dalworth Clean for a professional steam cleaning of your carpet helps to ensure a healthier environment for your home and your family.
Call Us at 817-553-2184