Makeup Stain Removal From Carpets in Dallas-Fort Worth
Makeup stains can be particularly difficult to remove from carpets, because they often include oil, color, and chemical components. These stains can be rather stubborn during the cleaning process because of their oily, strong adherence carpet fibers.
Dalworth Clean is the certified, skilled solution for makeup stain removal from carpets across Dallas-Fort Worth. We have assisted residential and commercial customers in Dallas, Fort Worth, Frisco, Plano, Azle, Burleson, Crowley, Duncanville, and across the Dallas-Fort Worth and North Texas region since 1976.
Our skilled specialists are fully licensed and insured. For decades, we have delivered best results, the highest quality service, and total customer satisfaction. For makeup stain removal and a host of other carpet cleaning options, call us at 817-553-2184 or contact us online to arrange a consultation with a Dalworth Clean representative.
Book Now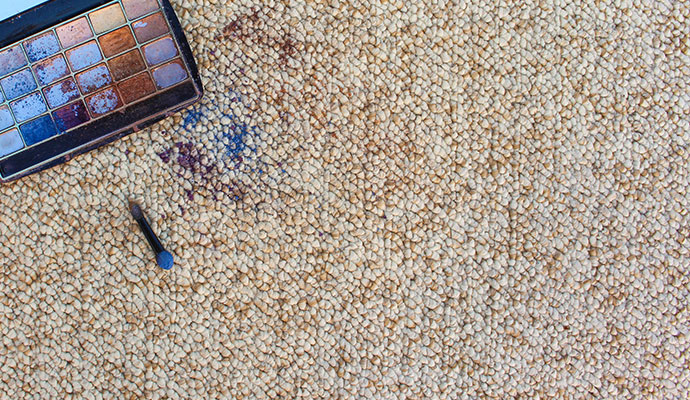 Why Dalworth For Makeup Stain Removal?
Turn to the experts at Dalworth Clean to remove stubborn carpet makeup stains instead of D-I-Y cleaning. Professional removal is better for the following:
Appearance: D-I-Y removal of makeup or other carpet stains is never recommended, and your carpets will look better with a professional touch. Difficult stains such as makeup should be cleaned with advanced equipment, cleansers, and expertise.

Cleaner is healthier: Stain removal means you'll have cleaner carpets overall. It's never a good idea to let stains linger, as other dirt and soil can adhere to them. With cleaner, stain-free carpets, your living and work spaces are also healthier.

Longevity: Neglected makeup stains can discolor and harm your carpet fibers, decreasing their useful life. Getting to these stains quickly will limit the amount of wear and tear your carpets sustain.
Trust Dalworth Clean For Effective Makeup Stain Removal From Carpets in North Texas
Dalworth Clean experts are passionate about carpet care and cleaning, and pleasing our customers. We take pride in delivering the best results possible, including for makeup stains, bleach spot and stain removal, acid-based stains, old and dried stains, spilled drink stains, and more for customers in Frisco, Plano, Richardson, Arlington, Garland, Irving, Benbrook, and throughout the Dallas-Fort Worth and North Texas region.
Call us today at 817-553-2184 or contact us online to book an appointment with a Dalworth Clean team member.