Benefits of Professional Carpet Cleaning Service
A beautiful carpet can add value to your home while adding extra cushion to your floor. But with time, these carpets get dirty and stained. This dirty carpet can be converted into a fresh, new-looking carpet by professional cleaning. Many people believe professional cleaning costs too much, but it is worth every penny. If you look at the list of benefits, it will be easy to decide if professional carpet cleaning is worth the cost.
Eliminates All Potential Sources of Dirt and Bacteria: Having your carpets professionally cleaned can make a significant impact in reducing the risk of illness and allergy attacks by removing dirt, dust, mildew, fungus, mites, and other allergens that can be hiding in there.
Restores The Carpets to a Brand-New, Pristine Appearance: Employing professional cleaners is a surefire way to improve the aesthetic appeal of your house and your carpet.
Eliminates All lingering or unpleasant Odors: Whether it's pet urine, food spills, or other odors, professional deep cleaning, and steam cleaning can help you eliminate all sorts of moldy or musty odors.
Removes Stubborn Stains: Hot water extraction from any professional cleaning service provider can effectively remove coffee or red wine spills, ink, pet stains, paint, mud, and others.
Extends The lifespan of Your Carpet: Professional carpet cleaning improves the aesthetic value of your home and extends the life of your carpets. If you want your carpet to last for years to come, it's smart to invest in professional cleaning services.
Reduces The Risk of Getting Your Carpet Ruined: Professional cleaners can clean your carpet without ruining it as they know very well what tools, cleaning techniques, and cleaning solutions are ideal for your carpet's material or fabric.
Saves Time and Cost-effective: With the help of professional cleaners and their cutting-edge equipment and tried-and-true carpet cleaning processes, you can have your carpets looking like new in just a couple of hours within your budget.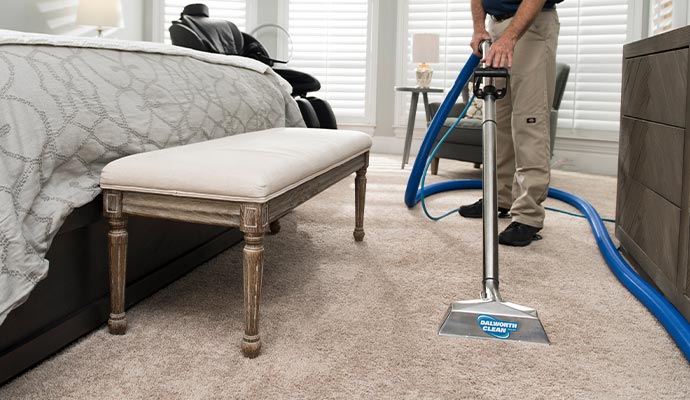 Why You Should Not Consider DIY Cleaning Method?
Cleaning your carpet yourself could seem like a wonderful way to save money, but in reality, it might cause more damage than good. If you use common household cleaners and abrasives to clean, your carpet can become discolored and damaged. Apart from this, there are some stains that cannot be removed without using products only available from professional cleaning service providers. That's why one should consider professional cleaning services rather than DIY.
Make Your Carpet Last Longer with Dalworth Clean's Professional Cleaning Services
Dalworth Clean has been serving the best carpet cleaning services for the people of Dallas, Fort Worth, Arlington, Grapevine, Garland, and surrounding areas since 1976.  We have the expertise and equipment to provide you with a dirt-free, fresh-looking carpet within the shortest possible time. We use eco-friendly cleaning solutions to clean your carpet so there is no chance of discoloration. Moreover, our cleaning can extend the life of your carpet. So whenever you need our professional assistance, simply dial 817-553-2184 or click here for more information.