Dining Chairs Cleaning Services in Dallas/Fort Worth
Dining chairs are an important element of your home for decorating your dining table while making them look as presentable as possible. Some dining chairs are made of more complex materials than others and require going through an extensive process for cleaning. Trying to clean them by yourself might not prove beneficial enough for you.
Dalworth Clean provides dining chair cleaning services for property and business owners in cities like Lake Worth, Dallas & Arlington. Our services are always available in your area. To reach us, call us now at 817-553-2184 or contact us online to learn more!
Book Now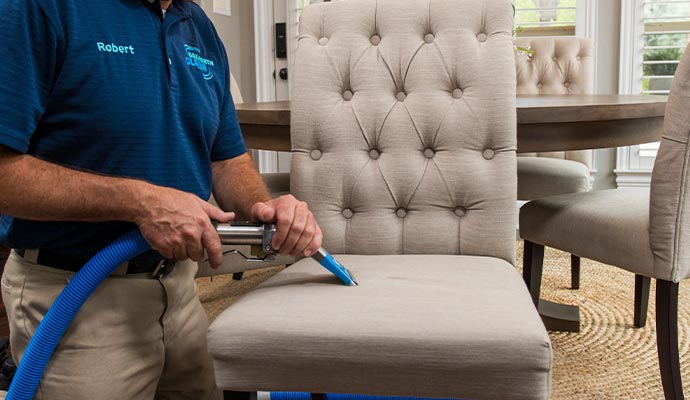 Why is Upholstery Cleaning Important on a Regular Basis?
It is Economical: The amount of money you invest in upholsteries is quite big and it may get wasted if you can't keep them in order. Upholstery cleaning makes sure that your investments are not wasted, resulting in saving you that money.
Maintains the Comfort: Cleaning the upholsteries on a regular basis makes sure that they are comfortable enough. They are important for ensuring that you're relaxed. Hence, keeping them clean makes sure they provide you with the comfort that they are supposed to be.
Keeps Them Presentable: Cleaning your upholsteries on a regular basis ensures that they look presentable enough. Cleaning properly will make sure that the colors and textures are right where they are. Cleaning will also make sure that they are dirt and dust-free.
Get Your Upholstery Cleaned by Our Experts!
For almost 40 years, Dalworth Clean has been successfully helping the residents and property owners of Lake Worth, Dallas & Arlington. In this extensive amount of time, we have provided varieties of cleaning and restoration services that have honed our skills and made it possible for us to understand perfectly what our clients need. With our technicians, you can rest without any concern that only the best cleaning service will be provided to your upholsteries.
To learn more, call us now at 817-553-2184 or contact us online for further consultation!