Valance Curtains Cleaning Services in Dallas/Fort Worth
Valance Curtains are a great addition to your draperies and they are also a welcoming sight for the guests in your house. When used for longer terms, dust and dirt can make them lose their beauty and appeal. In a case like this, it is just smart to get them cleaned by experts so that the quality of their fabrics remains the same.
Dalworth Clean understands the need for neat and clean valance curtains to make your living room look more appealing. We provide professional valance curtain cleaning services in areas like Dallas, Arlington & Lake Worth. To get your valance curtains cleaned by experts' hands, call us now at 817-553-2184 or contact us online to learn more about our services!
Book Now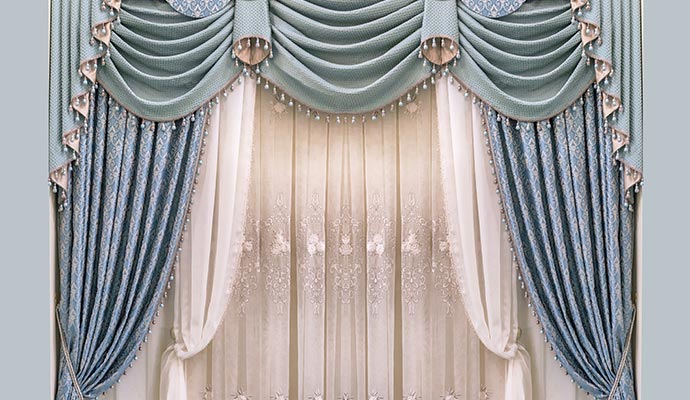 Benefits of Our Professional Cleaning Services
Saves Your Time & Energy
The professional cleaning services that we provide helps save both your time & energy while providing the best cleaning results.
Dust-Free Curtains
Our valance curtains cleaning technicians make sure that the curtains remain dust-free and clean to greet your guests with the best possible view.
Uses the Best Equipment
Valance curtains are sensitive to generic cleaning methods. If proper equipment is not used, they can get damaged which might be a very costly to recover later.
Appoint Our Cleaning Crew for the Best Cleaning Services
The drapery cleaning experts of Dalworth Clean are the best cleaning professionals in Dallas, Arlington & Lake Worth. Valance curtains can be a real hassle when it comes to cleaning and making them as presentable as possible. Depending on the kind of materials they are made of, they will carefully observe the valance curtains and decide how to make them as clean as new.
Deciding the right method for the right curtain is our specialty. Count on us for the best possible outcome!
Our cleaning services are available 24/7 in Dallas, Arlington & Lake Worth. Make us a call anytime at #817-553-2184 or contact us online to consult with our experts.