Concrete Cleaning, Stain & Polish in Dallas-Fort Worth
Concrete surfaces can accumulate dirt, grime, stains, algae, moss, and other unsightly substances that can mar appearance. Regular concrete cleaning can restore your concrete's shine and enhance the overall look of your property. Custom concrete cleaning and treatments such as staining, polishing, and stenciling are fast-growing trends in hard surface flooring.
Dalworth Clean can turn your plain concrete floor into a one-off, unique surface that is amazingly durable and easy to maintain. We have the necessary expertise and equipment to clean your dull, dirty concrete floor, remove or cover stains, and maintain its appearance, safety, and longevity. Call us today at 817-553-2184 or contact us online to schedule a consultation in Fort Worth, Burleson, Mansfield, Arlington, Plano, and more cities across D/FW and North Texas.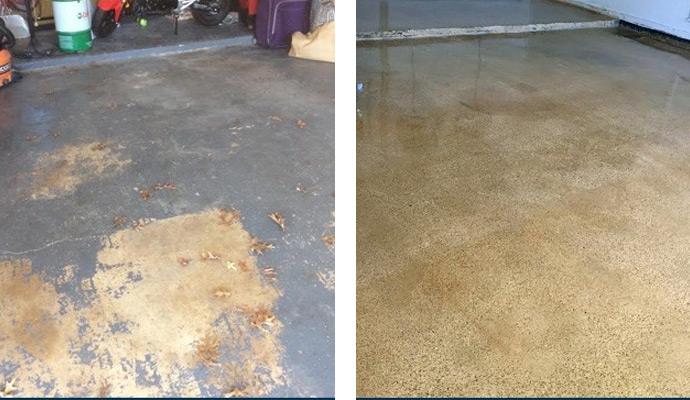 Flawless Concrete Cleaning by Dalworth
Dalworth Clean concrete cleaning, staining, and polishing covers driveways, sidewalks, patios, garage floors, and more for total concrete solutions. With advanced equipment and techniques, our skilled team ensures optimal results for stubborn stains, oil spills, and blemishes, transforming your concrete's original appearance.
Our custom concrete cleaning suits your specific needs and budget, providing a unique concrete surface. Our skilled technicians are always ready to meet your concrete cleaning needs with precision and professionalism. Choose Dalworth Clean for comprehensive concrete cleaning. Experience a stunning transformation of your concrete flooring, adding value and charm to your property.
More Dalworth Concrete Floor Restoration Options
Dalworth Clean has superior concrete cleaning, polishing, staining, and stenciling among our concrete cleaning or restoration or treatment options. They include:
Concrete Polishing and Sealing
Typically, polished concrete requires several polishing steps to achieve a glassy like finish. By limiting the number of polishing steps, you can reduce the cost of the job and still end up with a very nice looking floor. This type of finish would usually include the application of a sealer.
Concrete Staining
Concrete may be stained without applying the polish. Typically, the stained concrete would be sealed with a sealer. This can produce a beautiful floor, but for a lower price.
Decorative Concrete Stenciling
Decorative concrete stenciling is rapidly becoming a popular choice for unique design expressions in both home and commercial spaces. Our design team and expert flooring technicians will work with you to create decorative concrete stencil designs by creating vividly patterned tiles.
Call Us at 817-553-2184