Concrete Staining and Polishing Services in Dallas/Fort Worth
Make Your Concrete Floors Amazing
Custom concrete treatments such as staining, polishing, and stenciling are one of the fastest growing trends in hard surface flooring. Dalworth can turn your plain old concrete floor into a "one-off" unique floor that is amazingly durable and easy to maintain.
Contact Us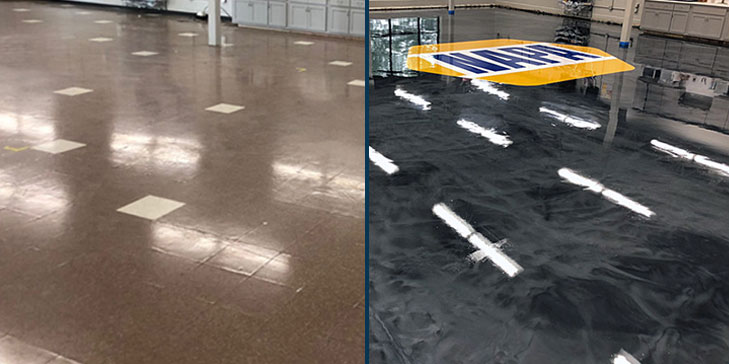 Our Polishing Process
Concrete can be polished to a brilliant glass-like finish. Polishing concrete is similar to sanding a piece of wood to a smooth finish. You begin with a rough piece of sandpaper and progress through finer grits of sandpaper. To get the wood smooth you'll finish with a very high grit count. Polishing concrete is the same, except instead of sandpaper we use diamond pads.
Polished Concrete For Your Home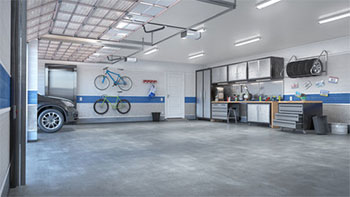 Garage Floor
Polished concrete is a great way to turn a boring garage into a beautiful showroom. Ideal for showcasing your motorcycle, sports car, or just your SUV. Not only will it look great, but polished concrete does not produce dust like un-polished concrete.
Interior Rooms
Whether you polish one room in your home or all rooms, there are some distinct advantages. You're only limited by your imagination. You can create art on the floor, or go with a simple plain polish. Either way, you will have a highly durable floor that's easy to clean, unique in appearance and a very long lifespan.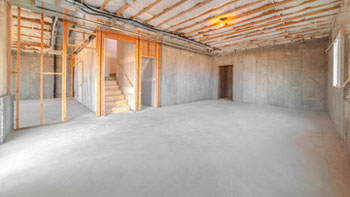 Basements
Of course, basements in North Texas are rare, but they do exist. Polished concrete is an excellent choice for a basement. It's easy to maintain, has a long life span, and you'll never have to worry about water damage.
Outside Areas
Patios, pavilions, pool decks, even sidewalks can be polished.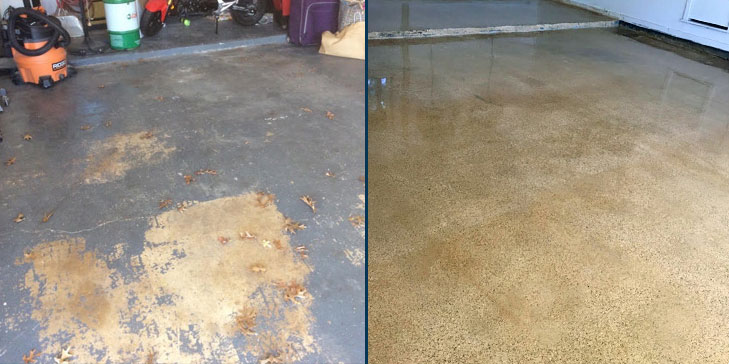 Commercial Concrete Polishing
Dalworth offers concrete staining and polishing for offices and warehouses as well. Having commercial floors stained and polished makes them easy to clean and incredibly durable. The glossy, reflective finish of polished concrete floors add luster to your commercial space and reduces the cost of annual maintenance significantly over waxed hard surface flooring.
We can add your business logo, designs or writing to any concrete surface. Ideal for lobbies, showrooms, warehouses or any commercial floor.
Benefits of Polished Concrete
The Most Durable of All Flooring: Holds up well to high traffic and is stain and spill resistant.
Low Maintenance: Require no sealers or waxes to maintain its luster. Periodic burnishing (once every few years) is all that is required. The glass-like finish makes it easy to sweep.
No Peeling or Flaking: Since no finish is required, there is nothing to flake off or peel.
Stain and Spill Resistant: Although not stain proof, polished concrete is resistant to staining.
Dust Free: Polished concrete, unlike concrete which has not been polished, does not produce dust.
Unique Design: With polished concrete, your design is limited only by your imagination. Colors, borders, images, etc. It's easy to have a 'one of a kind' floor with polished concrete.
Additional Concrete Flooring Options
In addition to polishing, Dalworth also offers these concrete flooring treatments.
Light Polish and Seal
Typically, polished concrete requires several polishing steps to achieve a glassy like finish. By limiting the number of polishing steps, you can reduce the cost of the job and still end up with a very nice looking floor. This type of finish would usually include the application of a sealer.
Staining
Concrete may be stained without applying the polish. Typically, the stained concrete would be sealed with a sealer. This can produce a beautiful floor, but for a lower price.
Decorative Concrete Stenciling
Decorative concrete stenciling is rapidly becoming a popular choice for unique design expressions in both home and commercial spaces. Our design team and expert flooring technicians will work with you to create decorative concrete stencil designs by creating vividly patterned tiles.
Call Us at 817-553-2184