Garage Concrete Floor Polishing across Dallas-Fort Worth
Undoubtedly, a polished concrete garage floor may look great. The beautiful natural concrete finish with a mirror appearance gives an elegant touch. You might be familiar to some of the advantages and characteristics stated for the polished concrete. Stain resistance, high light reflecting due to the glossy finish, easy maintenance and cleaning a surface that is not readily damaged, and durable since the flooring never has to be replaced - are a few of these advantages. Though this polished floor might look pretty expensive but you can get the concrete stain & polishing service at an affordable price with Dalworth. We have been working in this industry for years and offering you customized concrete flooring to outstand your garage.
Our services are available in the regions of Dallas, Arlington, Fort Worth, Irving, Grapevine, Garland, Richardson and nearby service areas. Give us a call at 817-553-2184 for communicate directly. You can schedule our appointment online using this link here.
Contact Us
What Are The Advantages of Garage Concrete Floor Polishing?
Many people don't give their garage floor much thought until it is desperately in need of repair. Cost is sometimes a decisive issue in concrete floor repairs or remodels. It is crucial to take into account the advantages of selecting polished concrete.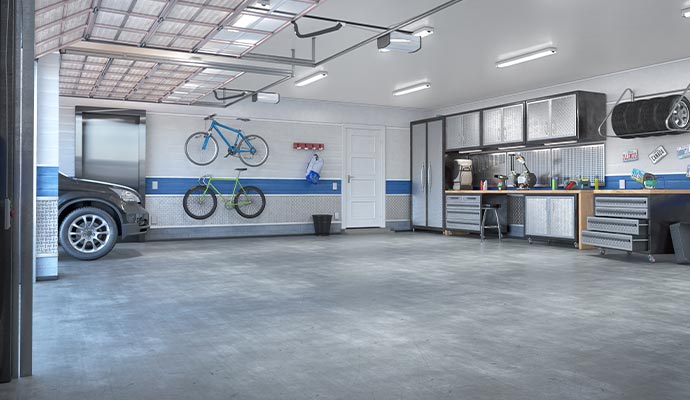 Stain resistance: Concrete is an easily stained, porous material. These pores are filled with cement in epoxy flooring, which prevents stains from penetrating. Old stains are difficult to remove when renovating a concrete garage floor, but they may be covered up with color and design choices.
Reduce wear & tear: A concrete floor that has not been polished has significant and obvious wear and tear. That is considerably decreased by using a polished concrete garage floor. As automobiles and other large objects are put onto the garage floor, the flooring becomes more robust and resistant to their weight.
Cost effectiveness: Polished concrete garage flooring require less maintenance in terms of time and money. Chemical spills may be quickly cleaned up with a mop to prevent harm. Additionally, polished concrete can tolerate some powerful chemicals that would obliterate a plain concrete floor and is stain-resistant.