Concrete Patio Polishing in Dallas-Fort Worth
Outdoor patios are perfect entertaining and relaxation spots, but their paved, concrete surfaces can take a beating over time. Restoring these surfaces makes a great impression with visitors, and concrete patio polishing enhances your home's overall appearance.
Dalworth Clean performs attractive, durable concrete patio polishing or refinishing as part of our overall concrete stain and polishing options that are affordable and attractive. We're a long-time industry leader in assisting customers with custom concrete stains and polishes for exterior residential or commercial areas. We also polish exterior concrete for pavilions, pool decks, sidewalks, and more.
We assist customers in Dallas, Arlington, Azle, Fort Worth, Irving, Grapevine, Garland, Richardson, Fort Worth, Benbrook, Burleson, DeSoto, Mansfield, Grapevine, Springtown, and across the D/FW and North Texas region. Call us today at 817-553-2184 or contact us online to arrange a consultation with a Dalworth Clean representative.
Contact Us
More Concrete Patio Polishing Options By Dalworth Clean in Allen
There are a number of newer, advanced options for exterior concrete or concrete patio polishing. Three popular options provided by Dalworth Clean include: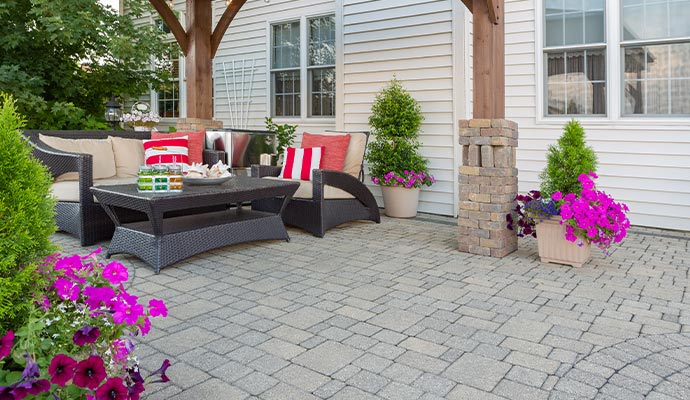 Concrete coloring: This allows for an infinite number of decorative effects. If you choose to color your concrete patio, the improved appearance will be unmistakable.
Concrete staining: These can be used to create a desired effect, shade, or overall look. While water-based stains have a far wider range of colors, other stains penetrate your concrete patio surface and react for a more permanent stain.
Concrete stenciling: This provides options for applying patterns on concrete. With personalized stencils, design features that were previously difficult to apply by hand can be done now.
Trust Dalworth Clean For Superior Concrete Patio Polishing in D/FW
Make your interior concrete flooring its most unique and attractive. Custom concrete polishing and staining, including concrete patio polishing or refinishing, is a growing trend. We can stain, polish or stencil your interior flooring or any concrete surface. Let Dalworth Clean transform your old concrete floor into something special that's also easy to maintain.
We also assist customers with metallic epoxy, concrete staining, concrete stenciling, concrete garage floor polishing, interior concrete floor polishing, exterior concrete polishing, concrete basement floor polishing, and more. Call us today at 817-553-2184 or contact us online to book an appointment with a Dalworth Clean team member.