Upholstered Dining Chair Cleaning in Dallas-Fort Worth
Upholstered dining chairs set important spaces for family and guests at special occasions. Their fabrics and materials vary wildly, and cleaning methods are numerous. D-I-Y methods can be less safe, and professional cleaning keeps your dining chairs inviting for guests and pleasant for you each day.
For stained or worn upholstered dining chairs needing new life, turn to Dalworth Clean across Dallas-Fort Worth and North Texas. Our professional, reliable dining chair cleaning has been proven effective decade after decade. We'll deliver the best results, service, and total customer satisfaction.
We have served customers for more than 40 years in Dallas, Arlington, Fort Worth, Celina, Anna, Allen, Burleson, Lake Worth, Bedford, Euless, Addison, and throughout Dallas-Fort Worth and North Texas. Call us at 817-553-2184 or contact us online to arrange a consultation with a Dalworth Clean representative.
Book Now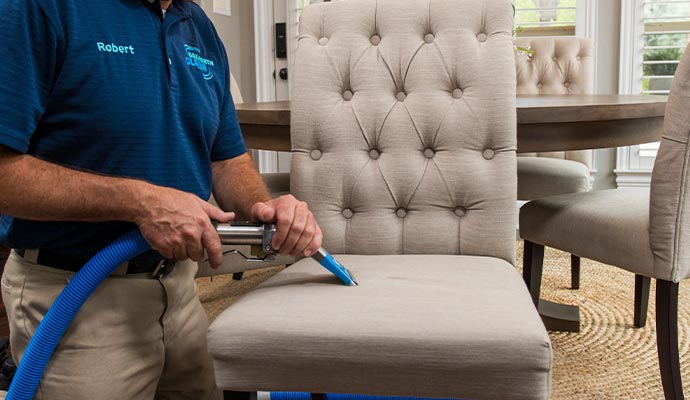 Why Dining Chair Cleaning By Dalworth?
Professional upholstered dining chair cleaning by the certified cleaning experts at Dalworth Clean has these advantages:
Protects investment: Any furniture, especially in sets like dining chairs, are no small investment. The right cleaning by Dalworth Clean protects what you have put into your home or business, keep it looking its best and lasting as long as possible.
Maintains comfort: Cleaning your dining chairs and other upholstery at least periodically keeps them fresh, comfortable, and inviting. It makes for a more relaxing environment, and leaves the best possible impression with guests, clients, etc.
Preserves appearance: Keep colors, patterns, materials, textures, and more surfaces on upholstered dining chairs in their best condition with regular cleaning by the Dalworth Clean experts. Dust, dirt, stains, odors, and more will be removed for a longer-lasting clean.