Futons & Daybeds Cleaning in Dallas & Fort Worth, Texas
Futons & daybeds are unique bedding systems that are detailed and versatile. Depending on the fabrics that they are made of, customized cleaning procedures by upholstery cleaning experts are mandatory to properly protect them. At Dalworth Clean, our cleaning experts provide top-notch cleaning services for futons & daybeds in Arlington, Frisco, Plano, and dozens of other cities throughout the Dallas-Fort Worth metropolitan area.
For the past five decades, our IICRC-certified technicians at Dalworth Clean have provided professional futons & daybed cleaning services for homeowners in Dallas, Fort Worth, Denton, Grapevine, Irving, and other communities within our services area. To learn more, call us now at 817-553-2184 or click here to schedule services online at your home or office today.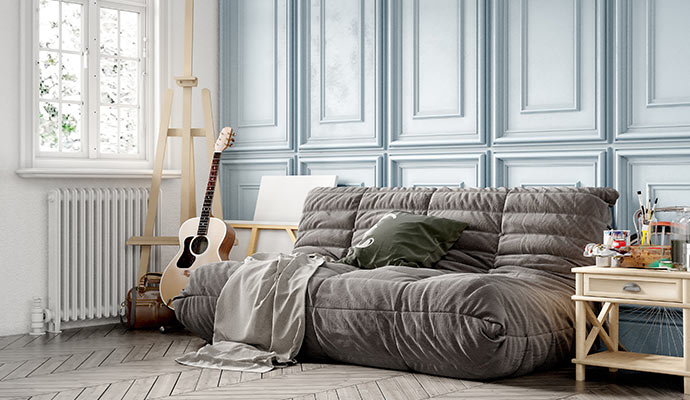 Primary Cleaning Methods for Futons by Dalworth Clean in Dallas & Frisco
Dry Methods: Three dry methods are most commonly used while cleaning futons: vacuuming, sunning, & sprinkling the futons with a cleaning powder. No matter if the futon is affected by dust mites, mold, or odor, these methods are time-tested and efficient for our IICRC-certified technicians.
Wet Methods: If you have stains or soilings that need to be removed, wet methods are the best to eliminate pesky stains from mildew, wine, or pet urine. Our cleaning experts will decide which method is best and will take the appropriate action.
Call Us to Clean Your Futon or Daybed in Dallas, Frisco, & Fort Worth
When we claim that the most efficient upholstery cleaning is performed by the certified cleaning technicians of Dalworth Clean, we have years of experience to prove our point. For almost 50 years, we have provided the best futon & daybed cleaning services, as well as a wide array of other cleaning services, for homeowners and business owners in Frisco, Plano, Arlington, & other DFW cities. Call us today at 817-553-2184 or click here to schedule services today at your DFW property.