Professional Curtain Cleaning in Dallas-Fort Worth
Curtains adorn most homes and offices throughout Dallas-Fort Worth, giving those spaces a finished, decorated appearance. Curtains can collect a considerable amount of dust and dirt, or even collect spots from nearby spills or other mishaps. At some point, curtains need cleaning care and attention.
For stained or worn curtains needing new life, turn to Dalworth Clean across Dallas-Fort Worth and North Texas. Our professional, reliable curtain cleaning has been proven effective decade after decade. We'll deliver the best results, service, and total customer satisfaction.
We have served customers for more than 40 years in Dallas, Arlington, Fort Worth, Celina, Anna, Allen, Burleson, Lake Worth, and throughout Dallas-Fort Worth and North Texas. Call us at 817-553-2184 or contact us online to arrange a consultation with a Dalworth Clean representative.
Book Now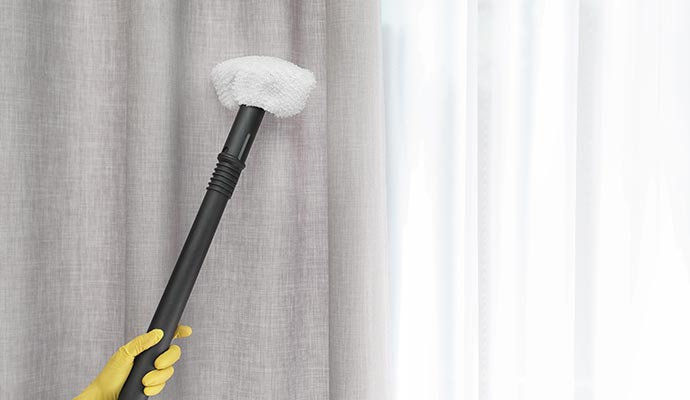 Dalworth is Your Curtain Cleaning Expert
Your dirty, neglected curtains are in good hands with Dalworth Clean when you need professional curtain cleaning. We utilize these curtain cleaning methods:
Hot water extraction: Our most common cleaning process for upholstery, curtains, and drapery. A thorough fabric rinse removes all dander and soil imbedded in upholstery. Your curtain, couch, sofa, chair or other fabric will be restored to a clean, fresh and comfortable condition.
Dry cleaning: Many designer upholstery fabrics require dry cleaning for better, safer results. We'll inspect your curtains to assess condition, color fastness, size, stains or other foreign matter. If dry cleaning is the best cleaning method, we'll provide efficient, effective results that make your curtains look their best.