Types of Wood Floors We Clean in Dallas-Fort Worth
There are many reasons, why regular floor cleaning is critical. First and foremost, it ensures a clean and healthy living or working environment. Secondly, professional floor cleaning removes toxins, lowering the risk of allergies and diseases caused by breathing or touching hazardous particles. At Dalworth, we offer different types of wood floor cleaning solutions so that you get a safe and hygienic home for your family.
Since 1976, we have been offering wood floor cleaning services in Forth Worth, Garland, Arlington, Mansfield, and other cities near the DFW area. Our professionals are trained, experienced and well-equipped with modern tools and technologies so that they can easily handle any kind of tough job for wood floor cleaning. Our experts employ buff and recoating cleaning techniques to clean the floors. Dial 817-553-2184 or contact us online if you need to know more about our services.
Book Now
Types of Wood Floors Cleaned by Professionals at Dalworth
At Dalwoth, we specialize in cleaning two types of popular wood flooring, hardwood flooring and engineered wood flooring: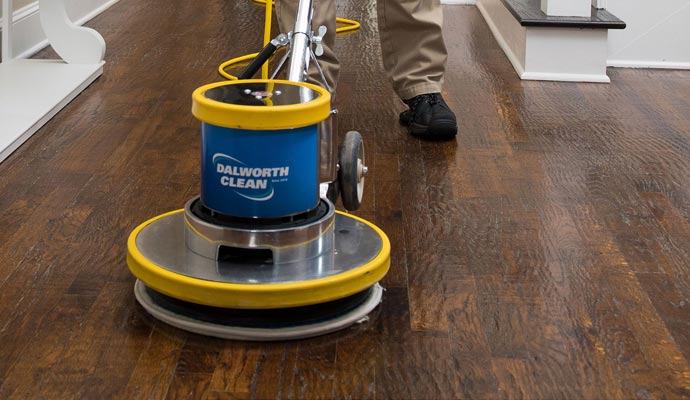 Hardwood Flooring Cleaning: Hardwood flooring is a classic that lends beauty and warmth to any room. Regular care and cleaning are required to maintain its beauty and longevity. Our team is experienced in working with a variety of hardwoods, including oak, maple, cherry, walnut, and others. Our cleaning process for hardwood flooring includes gentle dusting, precise cleaning, drying, and many more.
Engineered Wood Flooring: Engineered wood flooring requires frequent sweeping or vacuuming to remove dirt and debris, as well as periodic damp mopping with manufacturer-recommended cleaning products. This cleaning may not be possible at home, you need professionals for that, which we have.
Trust Dalworth Professionals to Revitalize Your Wood Flooring | Contact Us
Our professionals at Dalworth cleaned more than 1,000,000 homes since the day we started. We also offer other types of services including:
Give your wood floors the care they need, call 817-553-2184 or contact us online to get top-notch wood flooring cleaning in the DFW area.