Concrete Staining and Polishing Services for Pool Decks in DFW
The area that surrounds your pool is called the pool deck. All of your swimming area's aesthetic comes from the deck. But due to heavy traffic, it can get stained by dirt and soil. If it is left untreated bacteria and insects will infest your pool decks and worse can contaminate the pool water as well. Dalworth knows what you need to keep the pool deck clean. Our superior experts provide reliable concrete stains & polish for pool decks in Dallas & Fort Worth.
If your swimming pool is situated in Dallas, Fort Worth, Arlington, DeSoto, and other areas you can call us at 817-553-2184 for top-notch polished concrete floors. You can reserve an online booking by clicking here.
Book Now
Benefits of Polished Concrete Floors of Dalworth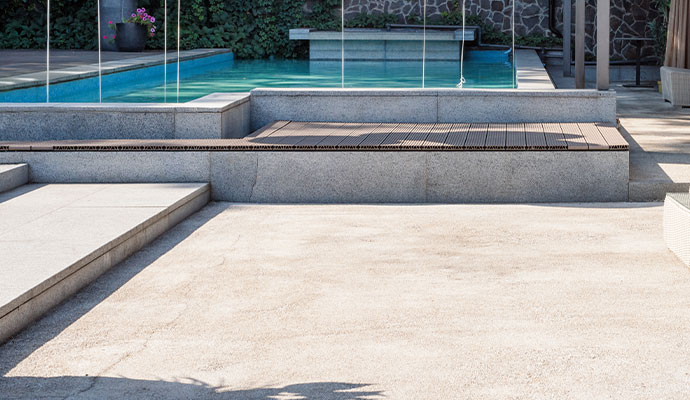 There are several benefits of our polished concrete Floors-
Durability: When your area is a high-traffic area, your floors need to be extra durable otherwise they will deteriorate very quickly. Our service will make your floor extra durable.
Low maintenance: You require no waxes or sealants to keep its brilliance. It is simple to sweep thanks to the glass-like finish.
Unique appearance: We have many ways to provide a unique look to your floor whether it is color, border, or images we got you covered. With us, you can have a one-of-a-kind floor with polished concrete.
Stain and dirt resistant:  Contrary to unpolished concrete, polished concrete is stain resistant and doesn't create dust. So when your floor is polished by us, you don't have to worry about stains and dirt for a brief period of time.
Believe in The Best Stain and Polish Services Provider across Dallas & Fort Worth
Dalworth is the most trustworthy company in Dallas and Fort Worth when it comes to concrete stain and polish services. We're proud of how well we treat our customers and how happy they are with us. Both the media and our customers agree that we have great service. Our certified experts also provide carpet cleaning, tile & grout cleaning, wood floor care, and many more services. Call us at 817-553-2184 or contact us online here for a free consultation and cost-effective services.