Pool Deck Concrete Finishing in Dallas/Fort Worth
If you're looking for a way to take your pool area to the next level, Dalworth's pool deck concrete finishing service is the answer. Our team of experienced professionals has a passion for creating unique and innovative designs that not only look great but also stand the test of time. We use only the highest quality materials and the latest techniques to deliver exceptional results that exceed your expectations. Transform your backyard into a stylish and functional space that will leave you and your guests in awe with our concrete staining & polishing services in Dallas-Fort Worth.
Our services are available in the areas of Burleson, Mansfield, Arlington, DeSoto, and other locations. Call us at 817-553-2184 for the best polished concrete floors. You can also take an appointment online by clicking here.
Book Now
Some Concrete Finishing Options for Pool Decks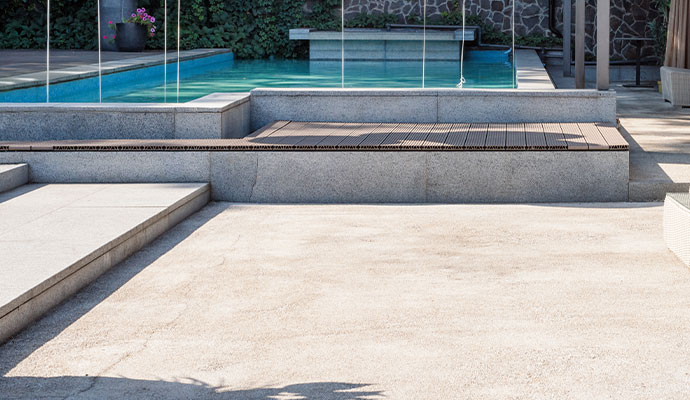 When it comes to designing the perfect pool deck, the right concrete finish can make all the difference. Here are a few options to consider:
Stamped concrete: This is a versatile option that can give the look of natural stone, slate, or even wood. With a wide variety of colors and patterns to choose from, stamped concrete can create a unique and eye-catching pool deck.
Colored concrete: Colored concrete is a popular option for pool decks and other outdoor spaces. It can withstand the elements, foot traffic, and pool chemicals without fading or chipping, making it a great choice for high-traffic areas.
Stenciled concrete: This is a decorative concrete finish that can be used to create intricate patterns and designs. This can be a great alternative to decorative stamping. Instead of rubber stamps, stenciling uses disposable paper stencils to embed brick or stone patterns in concretes.
Broom finish: A classic and affordable choice, broom finishing involves running a broom over the concrete while it's still wet to create a slip-resistant and textured finish.
Get The Best Concrete Stain & Polish Service across Dallas-Fort Worth
Dalworth is the most trustworthy company in Dallas/Fort Worth since 1976. When it comes to pool deck concrete staining & polishing, our certified experts delivers the best possible service using unique and customized techniques. We also provide services for sidewalks, patios, pavilions, and many more. Call us at 817-553-2184 or contact us online here to get the best services that exceed your expectation.