Bathroom Tile Floor Cleaning in Dallas/Fort Worth
We all know that the bathroom is also one of the most critical places in your home, which is why the bathroom floor needs to be cleaned all the time. But did you know that bathroom tile floors are inhabited by various microorganisms, including fungus that causes athlete's foot and stomach viruses? While most other fungi in the bathroom probably won't make you sick, they can make you allergic and asthmatic. That's why you need professional bathroom tile floor cleaning services from Dalworth Clean for your home.
Our professionally trained technicians are certified through the Institute of Inspection Cleaning and Restoration Certification (IICRC) and are dedicated to serving our customers in Dallas, Fort Worth, Plano, and throughout our service area. Call Dalworth Clean at 817-553-2184 to find out about our bathroom floor cleaning services, including tile cleaning and grout sealing, wax removal, residential slate cleaning and sealing, saltillo tile cleaning, and more.
Book Now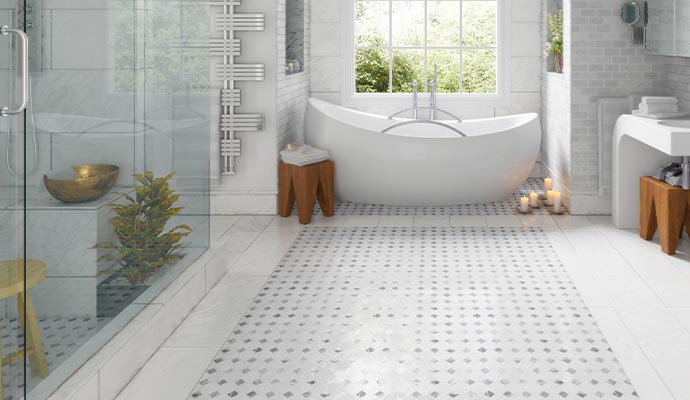 Why Do Bathroom Tile Floors Need to be Cleaned?
We usually install tiles on the bathroom floors. Tile floors in bathrooms and showers are incredibly resilient and waterproof, but they are not unbreakable. They might become worn if they are not cleaned and maintained. Grout is porous which makes it prone to absorbing dirt and moisture. So, your bathroom floor tile and grout need to be cleaned regularly to prevent mold and mildew growth.
Additionally, the bathroom floor tile's aesthetic appeal is also significant. The best-looking shower is not one that is crusty and covered in soap scum. When it comes to cleanliness, washing bathroom floor tiles and grout is crucial. To maintain proper hygiene and cleanliness call the professionals of Dalworth.
Count on Dalworth Clean for Bathroom Tile Floor Cleaning in Dallas/Fort Worth
We have the experience and the resources to take proper care of your bathroom floors. So call us today at 817-553-2184 or contact us online for more information.