Cleaning Services for Ottomans, Couches, & Sofas in DFW
An ottoman is an upholstered footrest that can double as an extra seat or coffee stand. Because of its versatility, the fabric often draws spills and attracts debris from shoes. When that occurs, our professional crews at Dalworth Clean offer cleaning services for your ottoman to get it back to its pristine condition that matches your couch, sofa, or chair.
For more than 50 years, our cleaning experts at Dalworth Clean have provided professional ottoman cleaning services for homeowners and business owners in Plano, Fort Worth, Arlington, & other DFW cities within our service area. Call us now at 817-553-2184 or click here to schedule cleaning services at your property today in the Dallas-Fort Worth Metroplex.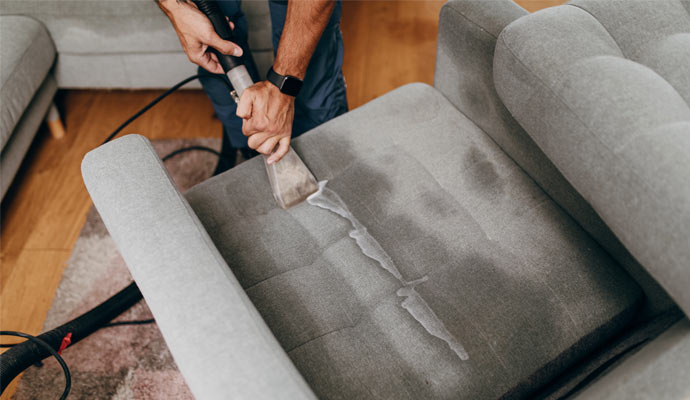 Other Upholstery Services Offered by Dalworth Clean in Dallas-Fort Worth
Deodorizing: Many factors can create odors in your ottoman. Not only coffee spills or residue from heavy foot traffic but reasons like excessive indoor humidity. Our deodorizing services will make sure that your ottoman completely gets rid of unnecessary odors and you can enjoy its comfort to the fullest.
Pet stain & odor removal: Pet stains are another reason why your ottoman can get dirty and become affected by odors. Sometimes, cleaning the pet stains is sufficient enough to get rid of unwanted spoils as well as odors that generate from them. We have expertise in providing cleaning services for you.
Rely on Us for the Most Efficient Cleaning Results in Plano, Dallas, & Arlington
When it comes to upholstery cleaning, which includes professional ottoman cleaning services, there are certain cleaning techniques that must be followed to achieve the best results. With almost 50 years of experience in the upholstery cleaning industry, Dalworth has developed superior cleaning techniques & protocols that make us a better choice than our competitors. To learn more about ottoman cleaning services in Fort Worth, Arlington, or Plano call 817-553-2184 or click here to schedule services at your property our service area in Dallas-Fort Worth.