Upholstery Pet Stain & Odor Removal in Dallas-Fort Worth
Our pets are family members who also can leave occasional stubborn stains on our upholstered furniture or other surfaces. Left untreated, these stains can penetrate upholstery fabric and into padding or cushions, causing a resilient stain or odor.
At Dalworth Clean, we provide an assortment of spot-cleaning treatments tailored to your specific needs. Our personalized upholstery pet stain & odor removal cleans and protects upholstered furniture and other surfaces. For superior, reliable upholstery pet stain & odor removal that delivers best results in Arlington, Frisco, Keller, Southlake, and throughout the Dallas-Fort Worth Metroplex, trust the professionals at Dalworth Clean.
Pet stains, spots, odors, dander, hair and more are a Dalworth Clean specialty. For nearly four decades, we've guaranteed best results and total customer satisfaction. For superior, thorough upholstery pet stain & odor removal, call 817-553-2184 or contact us online to learn more and arrange a consultation.
Why Dalworth Clean For Upholstery Pet Stain Removal in Frisco?
Dalworth Clean is your most reliable, professional solution for upholstery pet stain & odor removal. We will: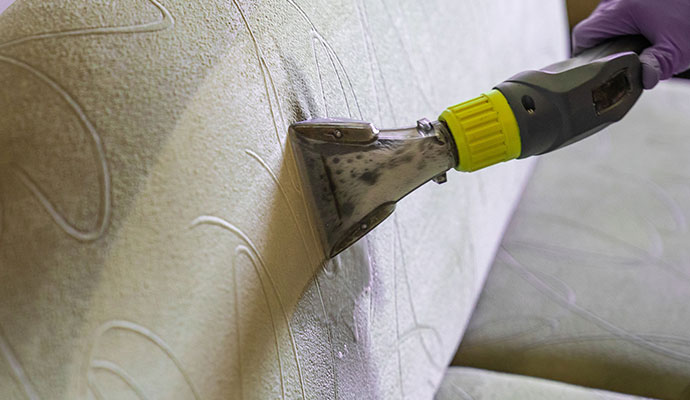 Improve furniture appearance: Over time, your upholstery can start to show spots and stains from everyday living. Professional upholstery cleaning can remove those spots and stains and restore your fabric colors to their original brightness.
Freshen indoor air: Upholstery cleaning not only removes spots and stains but also cleans your air. Fabric is an odor absorber. Your pets, shoes, and food leaves behind dirt and food particles that can be absorbed. Upholstery cleaning will deodorize your fabric and leave your home smelling clean and fresh.
Extend furniture life: Dust particles have tiny, sharp edges that can cause wear and tear on your fabric. If your upholstery fabric is starting to look thin and dull, then it's time to schedule a cleaning that extends the life of your furniture.