Water Damaged Carpet Cleanup in Dallas-Forth Worth
Water damage in your house can occur from a variety of sources, including floods, leaking pipes, roof leaks, and others. Specially susceptible to water-related damage is your floor, more so, if it's carpeted (due to soaking). If it is left untreated, it can cause a variety of problems, the most serious of which is mold and mildew growth.

Mold and mildew grow in moist situations and can spread quickly throughout your carpet, eventually leading to discoloration, bad odors, and structural damage. In these cases, it is imperative to clean your carpet as soon as possible as leaving lingering water on your carpet for more than 24 hours could make your carpet beyond repair.
At Dalworth Clean we have BBB-certified professionals who are experts and well-experienced in treating such damaged carpets. For your carpet, we have very comprehensive carpet cleaning services. Our professionals are trained to use modern equipment and materials to complete the carpet cleaning job quickly and efficiently. So call 817-553-2184 or contact us online today if you need to schedule an appointment for a water-damaged carpet cleanup facility.
Book Now
Specialized Carpet Cleanup Method for Mold and Water Damage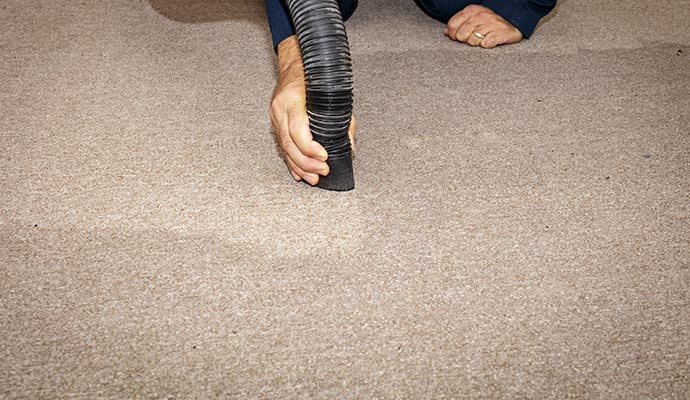 Our carpet cleanup method incorporates several advanced processes. Given below are some crucial steps usually taken in the clean-up process:
Thorough Inspection: Using high-tech equipment, we thoroughly inspect the carpet to accurately locate damaged areas from water and mold growth and make a cleaning strategy.
Water extraction: Our meticulous water extraction process allows for rapid water removal and cleanup and damage repair and prevention while protecting your carpets and rugs at the same time.
Mold removal: Mold and mildew are removed from your rugs using industry-leading procedures and safe cleaning solutions.
Cleaning: Once we extract water, mold & mildew, we then proceed to our rug cleaning process using the truck-mounted cleaning system.
Drying and dehumidification: Our professionals employ innovative technology to successfully speed up the drying process.
Final inspection: We perform a thorough final inspection to verify that all indications of water damage, mold, and mildew are removed.
Trust Dalworth for the Best Carpet Cleanup for Untreated Water & Mold Spores
Our team always keeps in mind to deliver the best possible carpet cleaning service, guaranteeing the aesthetic beauty of your carpet. Call us right away at 817-553-2184 to arrange a carpet cleaning appointment. You can avail of our service in Bedford, Arlington, DeSoto, Mansfield, and other close-by areas of DFW. We also provide other services such as carpet odor removal, wood floor cleaning, tile grout cleaning, and many more.