Tile & Grout Cleaning Services in Dallas/Fort Worth
For most of us, the old fashion mop is the cleaning tool of choice for tile floors. Over time soil absorbs into the grout and the appearance of both tile and grout gradually dull and change appearance.
Book Now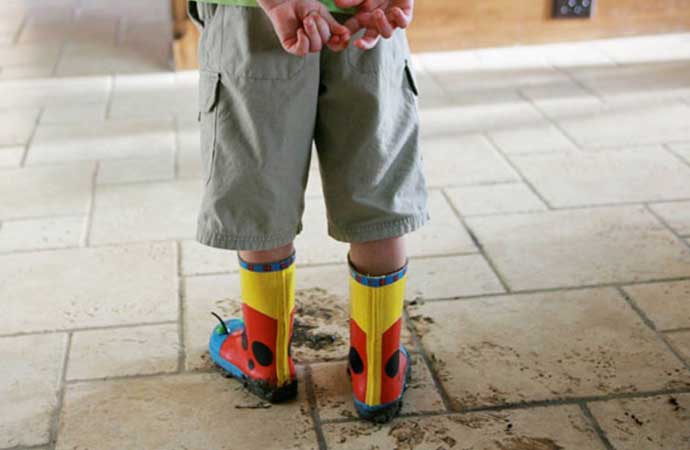 Dalworth's Tile & Grout Cleaning Process
Patented Cleaning Tool - Designed specifically for cleaning tile and grout.
Two Step Cleaning Process - Includes pre-conditioning and final rinse.
Dalworth uses patented cleaning tool designed specifically for tile and grout. It connects directly to our Truck Mounted Cleaning System, which provides a powerful flow of high pressure hot water and plenty of vacuum to insure a thorough and complete clean and rinse of the tile. The first step is a pre-conditioning of the tile and grout, followed by a final rinse.
Dramatic Results
You might be surprised by the difference in appearance a professional cleaning of your tile and grout can make. Soiling occurs gradually and you may not realize how much the appearance has changed since your tile was new. To find out, just ask your Dalworth Clean Technician to clean a sample area of your tile, at no cost or obligation. Or view our gallery of before and after pics.
Tile and Grout Sealing
Sealing your tile and grout is highly recommended. It's an effective way to help maintain the beauty of tile and grout. Grout is very porous and can easily absorb spills and soil. Sealing your tile and grout not only improves its resistance to soiling, but also helps to improve cleaning results in the future.
Grout Colorizing
If your grout is permanently stained or if you just want to change the color of your grout, Dalworth can handle the job. Our tile and grout cleaning technicians can either add color or change the color of your grout lines.
Wax Removal
Sealing your tile and grout with any type of wax is not something that Dalworth recommends. If your tile and grout has had wax applied in the past, Dalworth can, in most cases, remove it. Our technicians can remove the wax, clean and re-seal with a sealer designed specifically for tile and grout. You'll love the difference.
Call Us at 817-553-2184