Luxury Wood Floor Cleaning & Care in Dallas-Fort Worth
Luxury wood flooring for residential or commercial spaces comes in seemingly endless colors, shades, styles, grains, wood material, and more variations. In common is the need for professional luxury wood floor cleaning and care to maintain the best possible appearance.
Dirt, dust, stains, wear and tear, wax build-up, worn finish, water or moisture, and age all take a toll on luxury wood floors. Dalworth Clean has 40 years of caring for floors, carpets and area rugs across Dallas-Fort Worth, the resources and expertise to help restore and maintain the like-new appearance of your luxury wood floors. We'll do it affordably and have for decades in Dallas, Arlington, Plano and throughout our D/FW service area.
Call us today at 817-553-2184 or contact us online to learn more and arrange a consultation. Our wide selection of wood floor care options include:
Book Now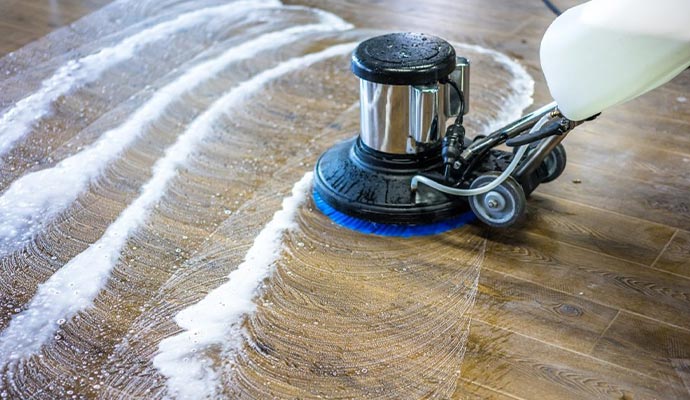 Dalworth Cleans, Polishes & Revitalizes Luxury Wood Flooring in Flower Mound
Dalworth Clean utilizes cleaning and polishing methods that won't harm the finish, color, or texture of your luxury wood flooring. We remove dirt, grime, buildup and other unwanted residue, leaving only a Dalworth Clean shine and like-new appearance.
We also offer luxury wood floor revitalization, designed by a major manufacturer of wood floor finishes. Our revitalization process gently removes layers of wax buildup and deep cleans your wood floors. You'll immediately notice the difference while our revitalization team is working in your home or office.
Why Wood Floor Revitalization By Dalworth?
Removes unsightly acrylic wax buildup
Deep cleans wood floors
Reduces appearance of surface scratches
Reveals original finish
More affordable than replacement, or sand and refinish
Choose Dalworth Clean For Luxury Wood Floor Cleaning in Arlington
At Dalworth Clean, we provide unrivaled results for luxury wood floor cleaning at affordable rates. Our skilled, certified, and insured technicians deliver the highest level of service and satisfaction. Our knowledge and expertise of hardwood floor care restores these surfaces to a near-perfect condition, effectively and efficiently. We also assist customers with hardwood floor polishing in Richardson, Frisco, and cities throughout the Dallas/Fort Worth area. Call us today at 817-553-2184 or contact us online to learn more and arrange a consultation.