Luxury Wood Flooring Care in Dallas-Fort Worth, TX
Nowadays, wood flooring comes in various shades of color, and quality materials. However, all types of luxury wooden floors require proper attention & care to maintain their aesthetics. Apart from dirt, stain, and time, other potential threats such as water, and excess heat may hinder the look of your floors. No worries, as Dalworth Clean has the necessary resources & expertise to restore your floor's beauty at affordable unbeatable prices in Dallas, Arlington, Plano and throughout our services area. Call us TODAY at 817-553-2184 or click here to book an appointment!
We offer a wide range of wood floor care services including:
Book Now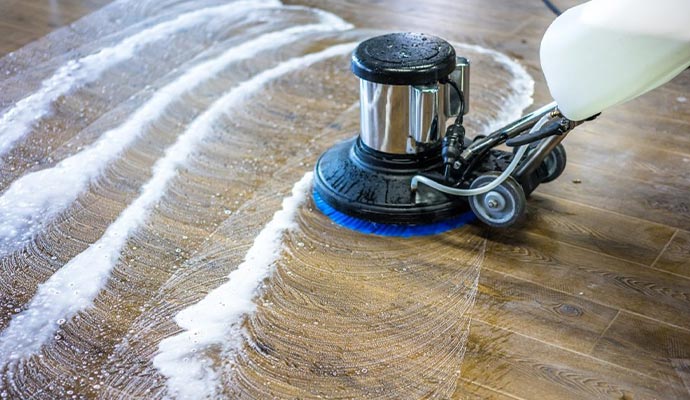 Wood Floor Cleaning & Revitalization
Dalworth Clean is an experienced luxury wood floor cleaning & polishing company that knows how to care for your wooden floors. We utilize cleaning methods that do not harm your floors' wooden material in any way. When you choose us, we ensure all dirt, grime, and other annoying matters are taken care of without ever compromising the integrity of your floor.
Additionally, we also offer revitalization services designed by a major manufacturer of wood floor finishes. Our revitalization process gently removes the layers of wax build-up and deep cleans your wood floors. You may immediately start to notice the difference while our team is working in your home or office.
Benefits of Wood Floor Revitalization
Removes unsightly build-up of Acrylic Wax
Deep cleans wood flooring
Eliminates the appearance of surface scratches
Reveals floor's original finish
Far less costly - than either replacement or sand and refinish
Count on Dalworth Clean to Care for Your Luxury Wooden Floors
Dalworth Clean has proven to be the leading provider of superior solutions since 1976. We have helped many homeowners as well as commercial owners to restore their indoor beauty & aesthetics with our professional cleaning services. Reach out to our experts in DFW when you need our help. Book your appointment NOW