Wax Finish For Wood Floors in Dallas/Fort Worth
Hardwood floors are trendy for residential flooring because of their elegance, durability and longevity. To maintain their glow and like-new appearance in the wake of food traffic, dirt, dust, sand or other debris, regular cleaning only goes so far. At Dalworth Clean, we're experienced at applying a wax finish for wood floors that maintain your wood surface's beauty and lifespan.
Our wax finish for wood floors has proven the superior solution since 1976. Dalworth Clean is A+ rated by the BBB, and our crews are always professional, courteous, and highly skilled. The Dalworth Clean name is synonymous with carpet or floor cleaning. For assistance in Mansfield, Lewisville, Burleson, Keller, Benbrook, Arlington, and throughout our D/FW service area, always trust Dalworth Clean. Call us today at 817-553-2184 to learn more about wax finish for wood floors and our other cleaning services.
Dalworth Clean Has Best Process For Wood Floor Wax Finishes in D/FW
At Dalworth Clean, our process of applying wax finish for wood floors includes: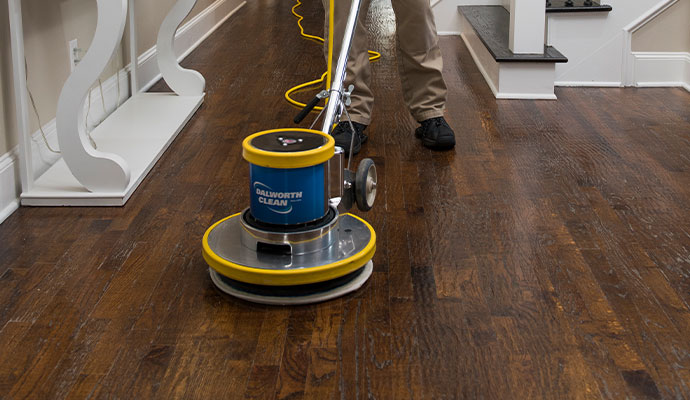 Arrangement: Spaces needing protection are taped off with painter's tape. This process will protect furniture from liquid wax.
Waxing: Using cloth towels and applicators, liquid floor wax is hand-applied for maximum coverage and detail.
Drying: Wax is dried by high-powered floor blowers until it's ready for slow buffing and polishing.
Slow buffing: Works wax into wood cleans simultaneously. We're careful to keep wax off your belongings or out of unnecessary areas.
Polishing: A high-speed burnisher polishes your hardwood floors. Wax is dissolved, and this adds a wow-inducing radiance and shine.
More Dalworth Clean Services in D/FW