Concrete Driveway Cleaning in Dallas/Fort Worth
Concrete driveways withstand constant vehicle wear and tear, lasting for years and requiring low maintenance. But concrete driveways accumulate dirt, stains, and other unsightly substances that diminish their appearance.
Only professional cleaning can remove these stains, restoring a driveway's original look or improving it altogether to enhance a property's overall appearance. Dalworth Clean provides outstanding concrete driveway cleaning in Fort Worth, Burleson, Mansfield, Arlington, Plano, and across Dallas-Fort Worth and North Texas.
We have the necessary expertise and experience to clean concrete surfaces. Our unique cleaning methods, products, and equipment achieve the best results for any driveway. For superior concrete driveway cleaning, call us today at 817-553-2184 or contact us online to consult with a Dalworth Clean concrete driveway cleaning expert.
Dalworth Clean is Your Concrete Driveway Cleaning Solution in Arlington
With Dalworth Clean, expect a thorough, efficient concrete cleaning for your driveway, walkway, patio, garage floor, or sidewalk. Preserve longevity and prevent damage. Expect the following from us: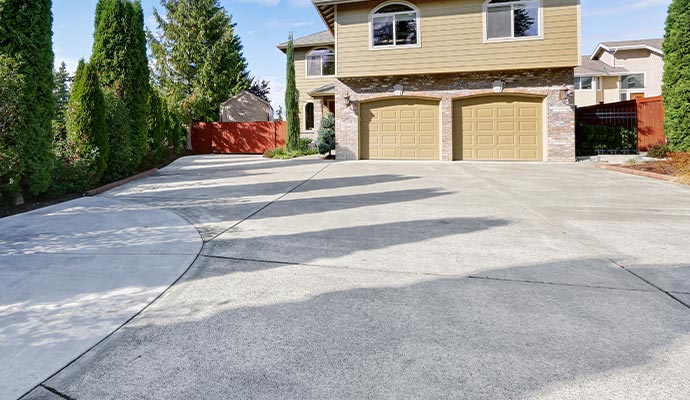 Specialized equipment: Our specialized high-pressure washers and equipment effectively remove tough stains and contaminants regular tools can't handle.
Proper cleaning techniques: We use precise cleaning techniques to safeguard the concrete surface, employing the right pressure, temperature, and agents for effective results without damage.
Stubborn stain removal: We're experts in handling stubborn stains like oil, grease, tire marks, and rust, which can be challenging without the proper equipment and cleaning agents.
Safety precautions: Our professional cleaners are trained to handle high-pressure washing safely, reducing the risk of accidents or damage.
Prevent damage: We ensure thorough cleaning without causing any harm to the concrete surface, avoiding incorrect methods or harsh chemicals.
Enhanced property value: Our professionally cleaned concrete driveway enhances curb appeal and property value, leaving a positive impression on potential buyers and visitors.
Make Your Driveway More Appealing With Dalworth in D/FW
Experience the difference in your driveway's appearance with Dalworth Clean professional concrete driveway cleaning. Let our expertise and care revitalize your driveway, creating a cleaner, more attractive, and inviting appearance. Call us today at 817-553-2184 or contact us online to book an appointment for concrete driveway cleaning and a more attractive driveway. See our reviews to discover what our customers have known for decades.