Engineered Wood Floor Cleaning in Dallas-Fort Worth
Engineered wood flooring offers superior dimensional stability, outlasting most synthetic floors. It's more water-resistant than solid hardwood and provides a timeless, elegant appearance with various wood types, finishes, and colors to match any interior design. The construction, with multiple layers of wood veneers glued in different directions, has enhanced stability, reducing the risk of warping or cupping due to temperature and humidity changes.
Frequent cleaning of engineered wood floors is crucial to maintaining its appearance and prolonging floor life. Proper cleaning keeps these floors looking their best and contributes to a healthier living environment. Dalworth Clean has exceptional engineered wood floor cleaning for residents in Fort Worth, Grapevine, Arlington, Frisco, Mansfield, and cities across Dallas-Fort Worth and North Texas.
We have the necessary expertise and knowledge to provide superior cleaning and care for engineered wood floors. Call us today at 817-553-2184 or contact us online to consult with a Dalworth engineered wood floor cleaning expert.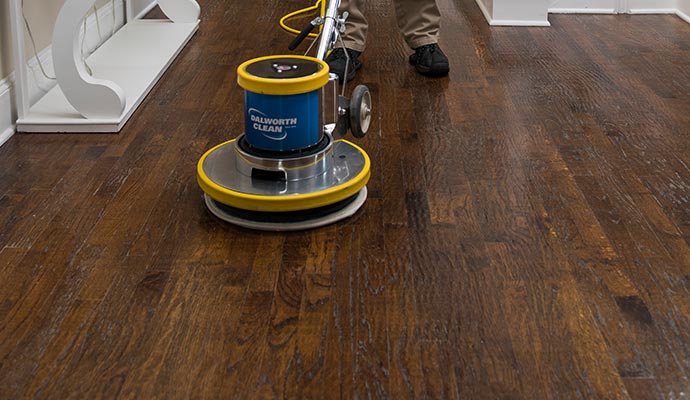 Why Us For Engineered Wood Cleaning?
Turn to Dalworth Clean for these engineered hardwood floor cleaning benefits:
Maintenance: Preserve your floor's beauty and condition, extending its life.
Dirt and debris removal: Prevent dust, dirt, and debris from dulling or scratching your floor's shine and appearance.
Spill and stain removal: Removes spills and stains to prevent discoloration.
Allergen control: Improve indoor air quality for a healthier breathing environment.
Maintaining protective finish: Enhance engineered wood durability and wear resistance.
Residue removal: Avoid residue buildup and sticky, dull surfaces to preserve natural luster.
Prevent water Damage: Water resistance prevents warping or buckling.
Trust Dalworth For Engineered Wood Floor Cleaning in Arlington & Plano
Dalworth Clean is the trusted name in carpet and floor cleaning, including engineered wood floor cleaning. With advanced equipment and skilled technicians, we safely remove dirt, stains, and allergens to keep your floors looking their best. Call us today at 817-553-2184 or contact us online to book an appointment with a Dalworth engineered wood floor cleaning specialist.