Concrete Basement Floor Polishing in Dallas-Fort Worth
A polished concrete basement floor has a new, clean feel to it. A custom concrete finish with a mirror shimmer gives an elegant touch. Stain-resistant, reflective, and glossy basement floor finishes provide easy maintenance and cleaning. They're not easily damaged and possess a durability that lasts longer than unpolished concrete.
Dalworth Clean performs attractive, durable concrete basement floor polishing or refinishing as part of our overall concrete stain and polishing options that are affordable and attractive. We're a long-time industry leader in assisting customers with custom concrete stains and polishes for basements, garages, and other residential or commercial areas.
We assist customers in Dallas, Arlington, Fort Worth, Irving, Grapevine, Garland, Richardson, Plano, and across the D/FW and North Texas region. Call us today at 817-553-2184 or contact us online to arrange a consultation with a Dalworth Clean representative.
Contact Us
Why Dalworth Clean For Concrete Basement Floor Polishing in Arlington?
Interior concrete flooring gives you little thought until it's desperately in need of repair. Cost can be a factor in concrete floor repair or restoration. Concrete basement floor polishing by the experts at Dalworth Clean enhances your basement concrete flooring with the following: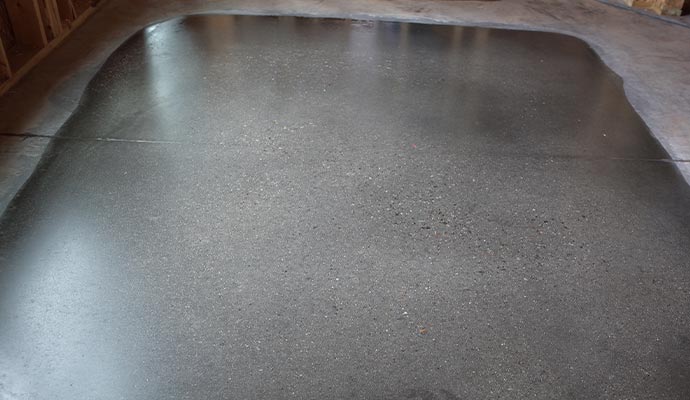 Stain resistance: Concrete is an easily stained, porous material. An epoxy floor finish fills these pores, preventing new stains. Old stains can be covered with colors, epoxy design choices, or other stain options.
Reduce wear and tear: Unpolished concrete floors suffer significant wear. Polished concrete basement floors reduce that wear with better resistance to car tires, oils, stains, and more.
Affordability: Polished concrete basement floors require less maintenance. Cleaning is easier, and resistance to chemicals, substances that stain, and other spills is significant.
Enhanced appearance: Dirty concrete floors that look unsanitary give poor first impressions. Professional polishing removes dullness, scuff marks, and filth. The clean, shiny appearance makes any room sparkle.
Safest clean: Dalworth Clean has the most advanced concrete floor polishing equipment and solutions for the best clean that leaves behind no surfaces or concrete damage. All that's left is a clean shine that endures and protects.