Dalworth Clean Mattress Cleaning Process in Dallas/Fort Worth
Because your mattress may contain between 10,000 and 10 million dust mites, according to the CDC, it is wise to have your mattress cleaned regularly so you can sleep soundly and avoid potential health hazards related to dust mites. Doctors consider dust mite droppings a trigger for asthma. Fortunately, Dalworth Clean has a proven mattress cleaning process, including a hypo-allergenic Allergy Relief Treatment™ for customers in the Dallas-Fort Worth area, to avoid these unwanted contaminants.
Contact Us
Dalworth Clean Mattress Cleaning & Allergen Removal Process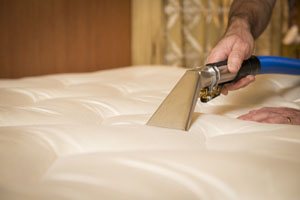 If you wake up with a stuffy head or have a hard time getting a good night's sleep, it's time to have your mattress professionally cleaned. Our mattress curator will deliver the results you can trust. Our multi-step mattress cleaning process is designed to thoroughly clean your mattress and effectively eliminate allergens. Dalworth Clean's hypo-allergenic Allergy Relief Treatment™ neutralizes and reduces dust mites and allergens more than 90% in your North Texas home.
Vacuum Mattress - both sides to remove loose dirt and dust.
Steam Clean Mattress - both sides to remove dust mites.
Apply Allergy Relief Treatment™ - effectively neutralizes allergens.
Dry Mattress - return to your bed ready for a good night's sleep.
Dalworth Clean's Anti-Allergen Services
Over time mattresses collect and trap allergens, dirt and dust mites, which can trigger allergies. Protect your loved ones from airborne allergens and improve your indoor air-quality with Dalworth's Anti-Allergen Services.
Call Us at 817-553-2184