Commercial Tile Flooring in Dallas-Fort Worth
Office buildings, retail businesses, and other types of commercial venues often see a high volume of foot traffic on a daily basis. Even if the janitorial crew is very thorough while cleaning the tiled floors, the floors will eventually seem dirty, and the grout lines will become discolored and unsightly.
This will occur regardless of how well they are cleaned. To keep the look of your building in tip-top shape, it is essential to have commercial tile cleaning performed on a regular basis by a crew of trained specialists. Dalworth Clean is a reliable service provider that provides the best commercial floor cleaning service in Arlington, Keller, Richardson, Lewisville, and other cities around Dallas/Fort Worth area. Call us at 817-553-2184 right now to take advantage of our premium services that you solely deserve from us at an affordable price.
Why Hire a Professional for Commercial Tile Cleaning?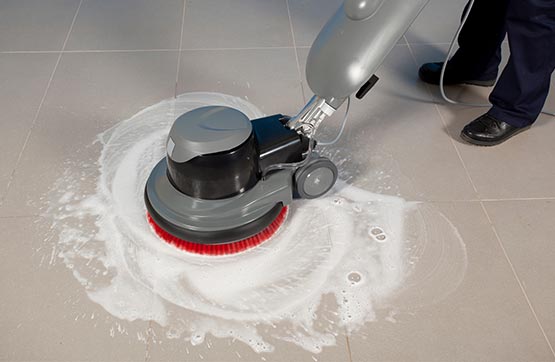 People often take their shoes off as soon as they step into their houses, or at the very least, they wash them off on a floor mat. However, the same cannot be said for structures used for commercial purposes. Even if you have floor mats, there is a chance that customers and workers will not take the time to wipe their shoes thoroughly on them. Your tiled floors are susceptible to picking up dirt, grit, oil, and other things, which may then be found throughout the workspace.
Our experts at Dalworth Clean will begin by carefully inspecting your floors in order to determine which cleaning approach will be most effective on that particular flooring. Then, make use of the most efficient procedures that may successfully release even the most tenacious filth and dirt that has been ground in. Last but not least, our commercial-grade cleaning equipment removes all traces of filth and cleaning residue, resulting in immaculately clean floors throughout your property.
Trust Dalworth Clean to Clean for Effective Commercial Tile Cleaning
At Dalworth Clean, we are well aware of how vital it is to your company's success that it preserves its impeccable image. We always value that. We provide other amazing services like Tile & Grout Sealing, Grout Colorizing, etc. in Irving, Benbrook, and regions throughout the Dallas/Fort Worth area. To learn more about our services, call 817-553-2184 or click here to make an appointment on all the services that we provide.