Concrete Floor Polishing for Outside Areas throughout DFW
The most frequently visited space of your property is the outside area. Because the outside of your home is the first thing everyone who visits will notice. When the outside floor is constructed of concrete, there is a particularly large risk of sliding incidents if the surface is not polished. There's where you are in need of concrete floor polishing service. Furthermore, Dalworth is a worthwhile option to consider as we have the most experience in this field. We use the most unique concrete polishing process, that is highly durable, easy to clean off, simple to maintain, and most importantly, slip-resistant.
The benefit of our services is available to the residents in Mansfield, Burleson, Benbrook, Dallas, Arlington, Fort Worth, DeSoto, and the surrounding areas. You can reach us through phone 817-553-2184. You may also use this link to visit us online and schedule an appointment.
Contact Us
Reasons Why Polished Concrete Floorings Are Better for Your Outside Areas
Polished concrete has had its pores filled by a particular concrete densifier, giving it a smooth appearance. To get the desired shine and light-reflective look, grinding tools are next applied. Because of its great benefits and appealing looks, polished concrete is one of the most popular flooring solutions.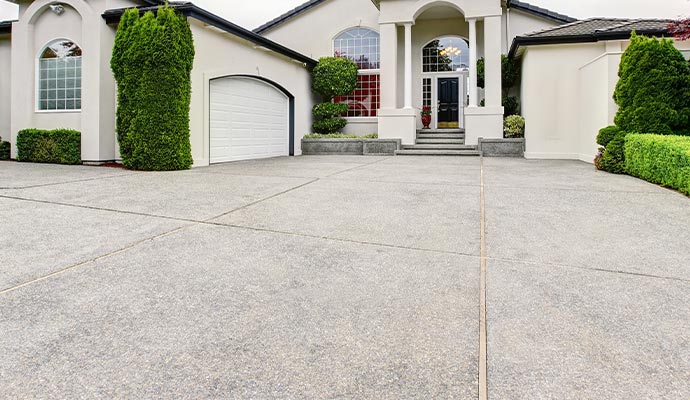 Strong stability: Polished concrete has the advantage of being super strong and resistant to damage from heavy foot activity. The flooring is highly resilient to damage, and no cracks or scratches may harm its appearance. Depending on how well it was constructed and maintained, its life cycle may last more than 10 years without any significant maintenance.
Affordability: Despite the fact that it is quite affordable, the cost still depends on the difficulty of the project and whether or not you already have installed the concrete flooring that simply needs a finishing touch.
Low-maintenance cost: Except for regular sweeping and cleaning to prevent dirt buildup, it requires no substantial care. You should sometimes wet mop a floor that has a high gloss surface. By doing this, you may protect the shine from fading.
Dalworth Is Worth A Shot for Polishing Concrete Floors!
Our company has been serving the folks in Dallas-Fort Worth for a long time. We are specialized in customized concrete floor polishing & staining treatment. Our services are not only limited to the outside areas, we are available to polish your concrete floor for other places in your house like basements, interior rooms, garage floors, and even commercial properties as well. Call 817-553-2184 today to schedule an appointment with us.