Exterior Concrete Polishing in Dallas-Fort Worth
Outside spaces at your home are frequently visited and used, particularly in warmer months, or by a pool. These areas make a great first impression, especially if the exterior concrete is in a good, attractive condition. Exterior concrete polishing or refinishing is the best way to keep these areas durable, weather, stain and water resistant, as well as looking their best.
Dalworth Clean performs attractive, durable exterior concrete polishing or refinishing as part of our overall concrete stain and polishing options that are affordable and attractive. We're a long-time industry leader in assisting customers with custom concrete stains and polishes for exterior residential or commercial areas.
We assist customers in Dallas, Arlington, Fort Worth, Irving, Grapevine, Garland, Richardson, Fort Worth, Benbrook, Burleson, DeSoto, Mansfield, Grapevine, Springtown, and across the D/FW and North Texas region. Call us today at 817-553-2184 or contact us online to arrange a consultation with a Dalworth Clean representative.
We polish exterior concrete for patios, pavilions, pool decks, sidewalks, and more.
Contact Us
Why Dalworth Clean For Exterior Concrete Polishing in Arlington?
Interior concrete flooring gives you little thought until it's desperately in need of repair. Cost can be a factor in concrete floor repair or restoration. Exterior concrete polishing by the experts at Dalworth Clean enhances your exterior concrete flooring with the following: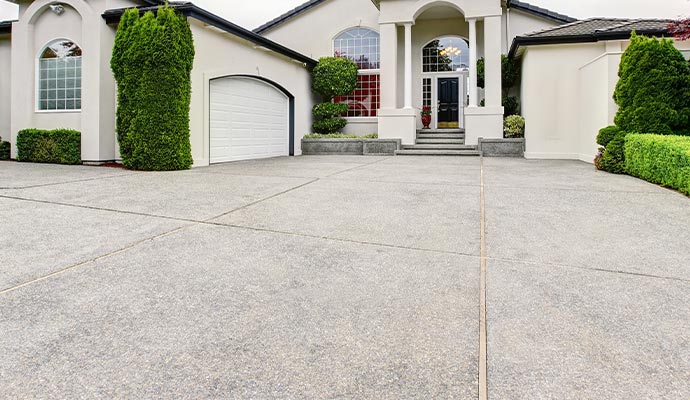 Durability: Polished concrete is highly strong and resistant to foot traffic, spills, drops, and routine damage that unpolished concrete often sustains. With a professional application, care and maintenance, it can last 10 years trouble-free.
Affordability: Concrete that is already in good, level condition and ready for new polish or refinishing makes for an affordable, finishing touch. Invest in making that exterior concrete space look like new, last longer, and require far fewer maintenance costs.
Low maintenance: Except for regular sweeping and cleaning to prevent dirt buildup, little maintenance is needed. Occasional mopping or hosing preserves your glossy surface.