Moldy Duct Cleaning Services in Dallas-Fort Worth, Texas
Mold in your duct system can cause severe health complications for you and your family. They are known to cause respiratory issues, and allergic reactions, and could be fatal for asthma patients. Reach out to the duct cleaning professionals from Dalworth Clean to ensure the safety of your family's health.
Since 1976, Dalworth Clean has been offering outstanding cleaning services for residential & commercial properties. We have the experience to remove debris, dust, and most importantly mold from ducts. Let Dalworth Clean improve the air flowing through your duct system & air. Call us at 817-553-2184 for moldy duct cleaning services in Springtown, Plano, Lavon, Duncanville, & other nearby areas within Dallas-Fort Worth Metroplex.
Book Now
How Mold Impacts Your Family
Once mold germinates inside your duct system, they release thousands of tiny spores in the air to reproduce. These spores may land on moist surfaces and spread mold infestation even further throughout the property. But, the health of your family members is threatened when these spores are inhaled causing various issues like:
Coughing
Sneezing
Skin irritation
Sore eyes
Throat irritation
Allergic reactions
Breathing problems
Worsen lung disease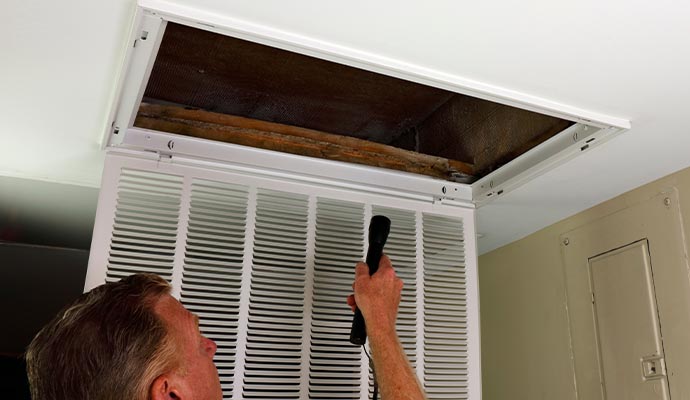 How Dalworth Clean Eliminates Mold Threats from Ducts
Dalworth Clean carefully removes the mold infestation in the duct system and remediates the situation to ensure they are gone for good. We use specialized cameras for air duct inspection, allowing us to do a thorough cleaning of your ducts. Later, an anti-microbial treatment is given to prevent the mold from coming back anytime soon.
We also have the expertise to improve the indoor air quality of your home or business and minimize the number of harmful mold spores flying around.
Protecting Families & Property from Mold Harm Since 1976
Your home's indoor air circulates through your air ducts. If the duct system itself is infested with mold, the air inside your home will be contaminated with mold spores too. Dalworth Clean can offer exceptional cleaning service for your moldy ducts and fix the issue permanently. Additional cleaning services we offer include:
Give us a call at 817-553-2184 or reach us online for duct cleaning services for your home or business property.